Versatile Acrylic Display Case Box withMirror & White Base 12.25x10x10.5 (A012)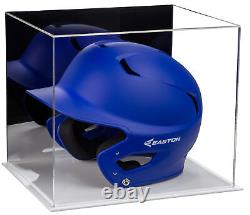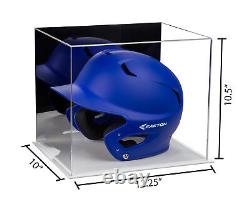 HIGH-QUALITY Fully assembled mirrored acrylic display case with a white double sheeted acrylic base. HANDCRAFTED from 1/8 acrylic sheets; The front and top are molded from a single sheet of durable acrylic to give a smooth aesthetically pleasing roll-over effect. FREE MICROFIBER cleaning cloth included; MIRRORED BACK gives off a lovely reflection and provides a deeper appearance.
DIMENSIONS OUTSIDE: 12.25 inches Long, 10 inches Deep, 10.5 inches High; DIMENSIONS INSIDE: 12 inches Long, 9.75 inches Deep, 10.25 inches High. See our store or below for other riser color, mirror or wall mount options. Here at Better Display Cases, we find joy in helping our customers display their story and we would love to help you display yours!
Your awards, collectibles, and mementos reflect your personality and tell your personal story. T bury your favorite items in a closet or trunk. Protect them from damage caused by dust, dirt, spills, fingerprints, and light. Proudly showcase them to your friends and family with one of our beautifully handcrafted, high-quality products. Our display cases are also a wonderful gift for the person who has it all but requires an appealing way to display their items.
Our handcrafted products are not made from cheap plastic as many other manufacturers use, and since we use durable acrylic our cases are lighter, safer, and clearer than glass. The front, back, and tops of our clear cases are molded from a single sheet of acrylic, giving them an aesthetically pleasing roll-over appearance with fewer seams. Our mirrored cases give a deeper and fuller look to your items. The double sheeted white acrylic base also provides a bright white reflection for your items which gives an appearance that compliments any surrounding decor. Our cases will make your memorabilia stand out and provide a warm home for your items. Your awards, heirlooms, toys, books, statuettes, or countless other items come in a variety of sizes and we offer many size choices of our mirrored & clear cases for your needs. Memorabilia pictured in the display case not included. Manufactured by Better Display Cases (a veteran owned and operated company).
Customer service is always our top priority. So, if you are ever unhappy with your order for any reason, please contact me and I'll be sure the issue is resolved to your satisfaction.
We would love to help you display your story!

---