Russian Imperial Award Display Box for Imperial Presentation Case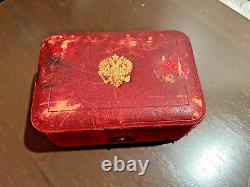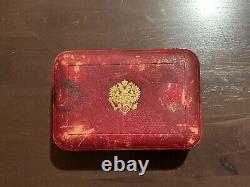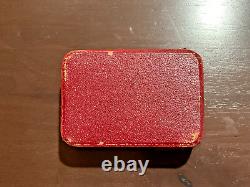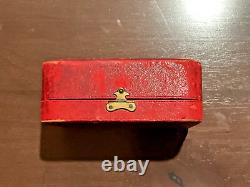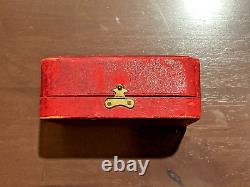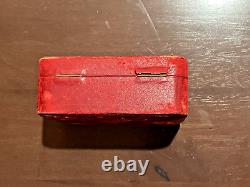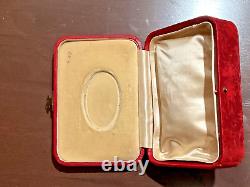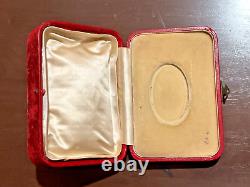 Russian Imperial Award Display Box for Imperial Presentation Case. This listing is for an extremely rare Russian Imperial red leather covered display case. This case has the Russian Imperial Coat of Arms in gold on the top with no other company markings present as per Russian Imperial Award System guidelines. The inside is lined with satin in the upper half and velvet in the lower half (please see pictures). This case is in what i would call restorable condition, considering it's age and history, it's actually in very good condition with all hinges and the clasp intact, there are no breaks or holes present.
There is scuffing present on the top half, but anyone with proper skills would have no problem restoring this piece to it's original condition. This case measures 5.5 x 3.5 x 2.0 inches outside measurement and the oval impression inside measures 2.5 x 1.5 inches. This case would have contained an oval jeweled presentation casket to be awarded by the Russian Imperial Court during the reign of either Alexander III or Nicholas II (Post 1857) going by the design of the Coat of Arms. For those of you that know, This case is RARE! Those that have them simply don't let them go and honestly, you can't put a price on one because you might not be able to get another one.
Unfortunately I have to part with this one so here is your chance to own a real piece of history, and if you have a compatible casket that matches, then this is your chance to complete the set, increasing the value of your investment exponentially. S and International is 24.95. I have done my best to describe the condition and included pictures of the item described, if you have further questions, or need more pictures, please ask and I will do my best to accommodate you.

---