Patches Display case / Millitary / Police / Horses Patches Shadow box Cabinet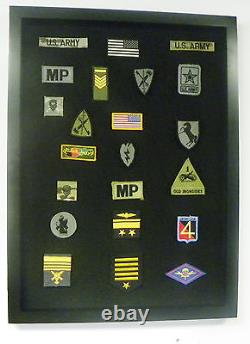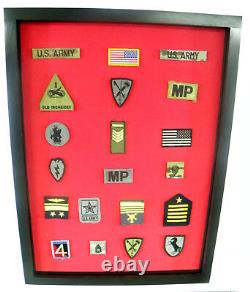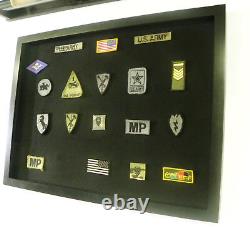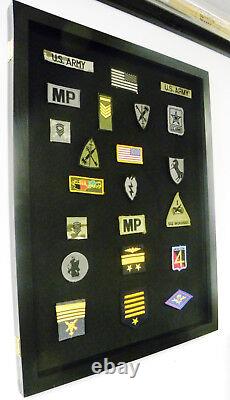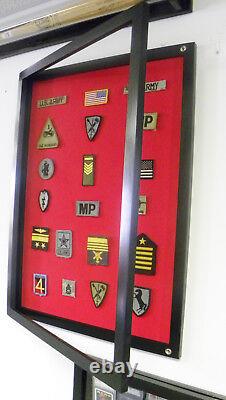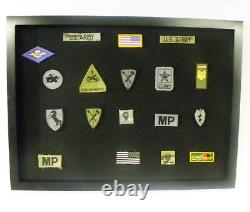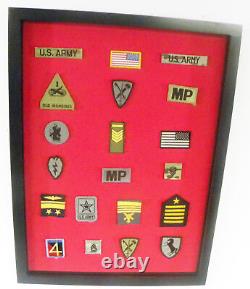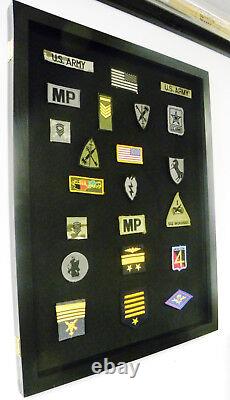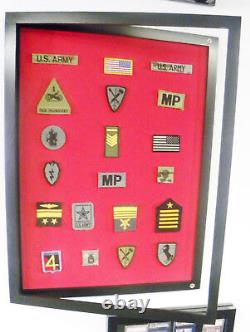 MADE IN THE USA, not overseas like our competition. This Patch display case can hold Patches or pins, it has a Felt Laun Backer so all you have to do is add Velcro to the back of your patches or just pin them in place the back works for both ways. Black felt or Red felt, Can be Mounted Vertical or Horizontal!
24.5" x 33"x 1.5" Outside Dimension 22" x 30" x 1/2" Inside Dimensions This case has 2 brass hinges 2 snapping locks TO CLOSE IT SECURELY. One Sawtooth hanger on the back ready to hang on the wall.
Acrylic Glass Framed in door cover to protect from dust and damage. Comes with Black or Red Felt. Made From a solid hardwood. All the acrylic on our display cases have standard UV Protection. Finishes: Mahogany (Cherry), Black, Walnut, or Golden Oak Finishes.
When Placing order please let us know which color would you like for the Finish of the Case Black, Cherry, Walnut, or Golden Oak, also let us know which color would you like for the Felt Background Black or Red. Very light weight made from Solid Hardwoods in Amish Country Michigan, not a imported from overseas.
Military Patches, Police Patches, Horse Patches, Boy Scout Patches, Fireman Patches, Harley Davidson Patches Shadow Box Cabinet, Army patches, navy patches, air force patches, Marine Patches. This Case Will Work For All Patches Military, Police, Horse, Boy Scout, Fireman, Harley Davidson etc. Please allow 2 weeks for return to be processed. We will leave a 5 Scores DSR feedback for you. Also sometimes the shipper may require a signature to certain address's.

---