Flag Display Case Military Shadow box for 4'X6' Flag, not for Casket Flag, Oak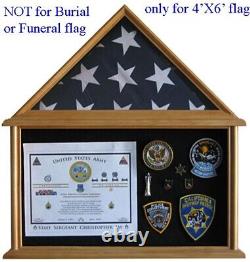 Flag Display Case or Military Shadow Box, SOLID WOOD (#FC12-MAH). (NOT for Funeral or Casket draped flag which is 5'X9.5') See our other display cases for 5'X9.5' flag.
Is this the Right Size? Flag comes in many different measurements.
This is strictly for the 4'X6' flag folded. This is too larger for the 3'X5' and too small for the 5'X9.5' flag folded flag. All-in-one Flag and Memorabilia display case holds the standard 4' x 6' flag with attached display case to proudly display all your treasured awards and memorabilia. The display case has a glass front.
Easy access from the back. You can put it on a table or hang it on the wall. Velcro-friendly backing for easy mounting of memorabilia.
Foam under the backing felt for pins to push in. Guarantee quality is as good as appear on picture if not better.
Dimensions: 22.75" H x 21.5" W x 3" D (Outside) Weight (net): 7 lbs Interior: : Flag Display area: 18.5"W X 9.5H. Base to top, sides: 13. Pin/Medal area (bottom): 19" W X 11" H X 1.5 D Fits military or service flag size up to 4 feet x 6 feet. Reminder: Flags comes in many sizes. This flag case is NOT for a Casket Draped Flag which is usually 5'X9.5'. This is STRICTLY for a 3' X 5' Home flag or a Flown Flag which should be about 13.5"W X 6.75"H when folded. This is for a Flown flag which has historic meaning, or has been flown for a special occasion or at places of special meaning. Flown flags have traditionally been handed out by dignitaries during special occasions. Our collectible display cases' gives you all the principles of "Value":Great Price, Quality, Durability, and Functionality...
Which you will love today and tomorrow.

---