Display Case withSliding Back-Box with Clear, White Back Horizontal Wall Mount(A085)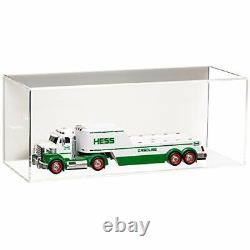 HIGH QUALITY Clear acrylic display box; memorabilia cube comes fully assembled. FULLY ASSEMBLED with sliding removable white back (with horizontal wall mounts)for easy access and to make hanging simple. FREE MICROFIBER cleaning cloth included; perfect for scale trucks like Hess or other collectibles. DIMENSIONS OUTSIDE: 8 inches Long, 8 inches Deep, 20 inches High; DIMENSIONS INSIDE: 7.625 inches Long, 7.625 inches Deep, 19.5 inches High. See our store or below for other riser color, mirror or wall mount options.
Protect and display your collectibles in one of our beautiful, high-quality, display cases. This display case will make your memorabilia stand out and provide protection from damage caused by dust, spills, fingerprints, light or simply something falling on top of it.
These cases are constructed of 5mm or 0.197-inch crystal clear, durable high clarity acrylic, not cheap plastic. The front and top of the case are made from one piece of acrylic (plexiglas), giving an aesthetically pleasing rollover appearance with fewer seams. The removable back piece is white, has wall mounts, and slides off so memorabilia can be easily inserted in the case. This is a wonderful gift for any person with a collectible to display. Memorabilia pictured in the display case not included.
Manufactured by Better Display Cases (a veteran owned and operated company). Customer service is always our top priority. So, if you are ever unhappy with your order for any reason, please contact me and I'll be sure the issue is resolved to your satisfaction. We would love to help you display your story!

---