Colt Model 1911 Wood Presentation Case Fitted Pistol Display Box Made to order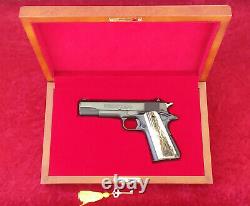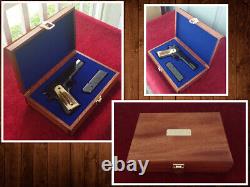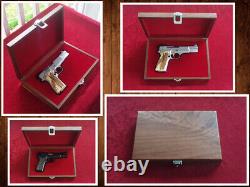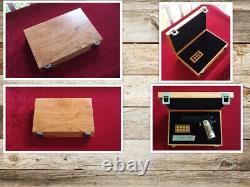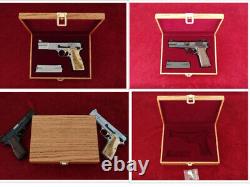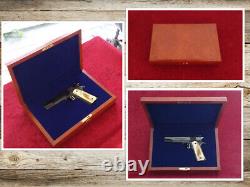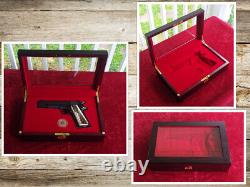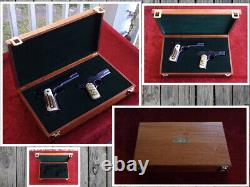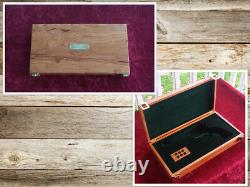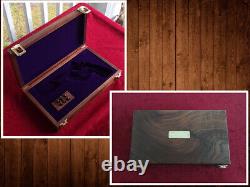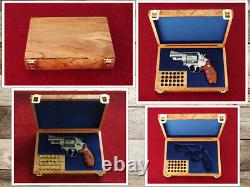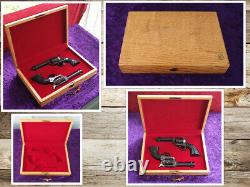 This is your case and you have the opportunity to have it done "your way" by having some creative control on it's construction and design. You choose the wood for it's construction - Walnut, Oak, Cherry - (other options are available upon request - some price difference and availability may be applicable). You choose the finish/color of the hardware, catches, hinges etc (Brass/Gold, Nickel/Silver or Antiqued brass/Bronze). You choose the interior color (Red, Burgundy, Royal Blue, Navy Blue, Kelley Green, Hunter Green, Black, Purple, Gray, Tan). You choose the preferred pistol/revolver layout/orientation (facing to the right or left, etc).
Feel free to inquire about other decorative touches which may be available for your project (engraved plates, medallions, wood ammo/cartridge block, recessed areas for magazines, accessory storage or tool display etc - these embellishments are an add-on, not included in base price). This presentation case would make a worthy home for your prized 1911.
Cases like this add a nice vintage luxury touch, a stylish way to show off your cherished pistol to your friends, family, fellow collectors or potential customers. The Case's interior is firm yet soft enough to not harm your gun's finish, it is lined with a stylish and attractive velvet in a color of your choosing (other fabrics may be available, suede, felt, plush velour etc). This presentation case will be fitted to your particular Pistol or Revolver, you'll need to provide make and model information and indicate any special features (providing a picture may be helpful) to insure proper fit.
The case can be fitted to standard configured 1911's or those with customized features (Extended controls, magwell, upswept grip safety, compensator, aftermarket grips, custom sights or optics, etc etc). Most requested presentation cases are "French fitted", this style offers a form fitted area for your pistol to rest in style while comfortably and firmly in place, this method will be made to fit your particular make and model so it's individual to that gun only (or others with the same dimensions). If you'd like your case "English fitted", this method offers a more open partitioned area for the gun and other accessories to be placed (it's not form fitted to an individual firearm - for frame of reference, most percussion / cap and ball revolvers use this method), we can do that as well. If you want your case to be even more universal we can place an upper and lower fabric covered soft foam insert which will hold the contents in place by a pressure fit when closed. Please allow 4 to 10 weeks (+/-) for preparation and construction. It is not an exact science, many varying factors may be involved regarding the time needed to create your presentation case (Ease or complexity of your particular build, the number of other orders processing at the time, material acquisition/supply chain issues etc) Your patience and understanding here is necessary but also appreciated, believe me, I wish that I could snap fingers and make a finished product appear but a lot of tedious and time consuming processes are involved in creating a case that would honor your treasured heirloom with all due reverence. I'll make every effort to get your case to you in a timely manner with attention being placed on quality first and foremost. Please feel free to ask. Note---This particular listing is for a wooden presentation case with external dimensions appropriate for storing a single 1911 pistol. Other woods, both domestic and exotic, may be available upon request. This item is in the category "Sporting Goods\Hunting\Gun Storage\Cases". The seller is "goofymastiff" and is located in this country: US. This item can be shipped to United States.
Brand: Colt
Number of Guns: 1
Type: Presentation Box/Case
Model: Colt Model 1911 Government Model Mil-Spec
Material: Wood Velvet
For Gun Type: Handgun

---