Autel MaxiSys Ultra EV + EV BOX Electric Intelligent Diagnostic Scan Programming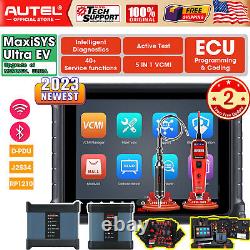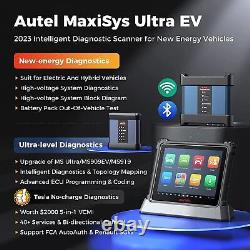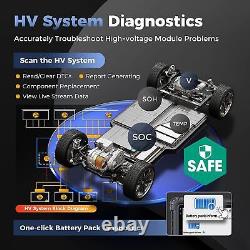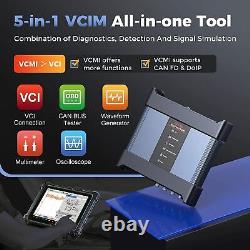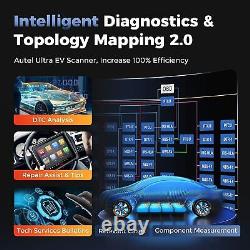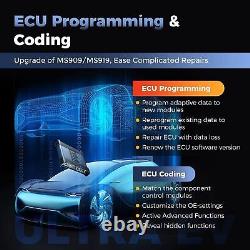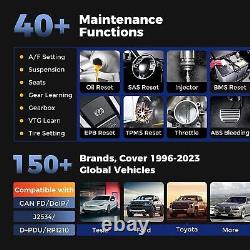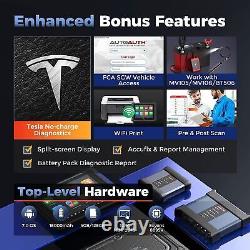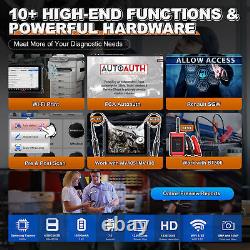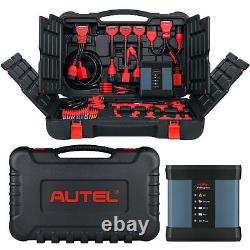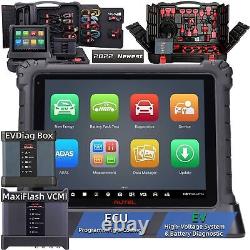 Autel MaxiSys Ultra EV + EV BOX Electric Intelligent Diagnostic Scan Programming. Free Gift 1: Autel PS100 Circuit Tester Power Tool.
Autel MV460 Car Digital Inspection Camera. [All Functions of MS Ultra + EV Diagnostics]. Ultra EV adds EVs diagnostics, offline battery pack diagnostics, and high voltage system testing to Ultra's already powerful diagnostic functions. Ultra EV integrates programming, coding, intelligent diagnostics, VCMI, 40+ reset services, split screen, and multi-tasking operation, making the scan tool undoubtedly the diagnostic solution for electric vehicles.
Ultra EV makes diagnostics for EVs such as Tesla, BMW, and VW no longer a challenge. [High-Voltage Diagnostics + Offline Battery Pack Diagnostics].
EV provides a high-voltage system block diagram, parts diagram, plug-in diagram, disassembly guide, etc. The scan tool also provides offline battery package diagnostics to ensure the efficient completion of each battery installation. [ECU Coding & Programming, Support More OE Software]. The advanced scanner MaxiSys Ultra supports ECU programming. Technicians can download the latest software to update ECUs or program new ECUs.
Online coding enables coding data for modules and changing parameters to customize hidden functions or disable annoying settings. Ultra EV supports CAN-FD, DoIP bus protocol; D-PDU, J2534, and RP1210 three major diagnostic standards fastening diagnostic speed and covering more models.
[Autel Ultra EV: Multi-use, 5-in-1 VCMI]. The VCMI device comes along with the scan tool Ultra EV is designed with five functions: a multimeter, oscilloscope, waveform generator, and OBDII CAN Bus Check. The device allows measurement and display of parameters such as voltage, resistance, current, signal frequency, and voltage-time characteristic of the signal.
Autel scanner Ultra EV perfectly integrates five powerful devices into one, saving you effort and thousands of bucks. [One-Stop Intelligent Diagnostics, Quick and Accurate]. Autel Ultra EV has specialist capabilities that help technicians repair work with less effort: Repair Assist leads the user to proper repairs.
DTC Analysis provides repair assistance information. Repair Tips details the steps of determining and clearing faults. Topology diagrams show the network between modules to quickly locate problems; provide solutions and step-by-step guidance for the repair process.
[40+ Reset Services + Remote Diagnostics]. Ultra EV contains 40+ special functions for 99% of the car models on the road, meeting almost all the daily diagnostic needs of mechanics. With the help of the update function, the special functions will keep adding. Remote diagnostics feature (add P2P direct connection, IM instant messaging to ensure a stable connection, and hassle-free communication) allows mechanics to get diagnostic and repair assistance from other experts or professionals. [Autel Ultra EV: Top-notch Scanner, Work as a Diagnostic Expert].
As a top diagnostic device, Autel has equipped the UltraEV with the best hardware, including Samsung Exynos 8895V processor to increase the speed; 128GB of memory to store programs and data; 18000mAh battery to ensure uninterrupted operation all day; 12.9 inches 15362048 large and clear screen to ensure smooth manipulation. Split-screen display and multitasking feature dramatically improve technician efficiency. Why is The MS Ultra EV Appealing? -The Most Powerful Scanner with the Highest Investment potential. Autel MS Ultra EV (1000 less than purchasing Ultra and EV Box separately) adds an EVDiag Kit to Ultra, making the scanner possible to diagnose new energy vehicles, including Tesla, BMW, VW, Au-di, etc. This automobile diagnostic scanner combines together almost every high-end diagnostic feature you can think of, bringing repair stores more orders. Top-level diagnostic tool, upgraded version of MS909/MS909/MS908S PRO/MK908P/ELITE. Advanced ECU Coding & Programming.
Program, rewrite, code, and match new ECU after new module replacement. Code cars to unfold hidden features and activate high-end functions to improve vehicle performance. Support CAN-FD, DoIP bus protocol, D-PDU, J2534, RP1210 diagnostic standards.
Perfectly integrates 5 powerful devices into one scanner, saves not only your effort but also thousands of costs. Intelligent Diagnostics: Offer unique Repair Assist, DTC analysis, TSBs, Repair Tips, etc.
Provides a color-coded topology display for all vehicle systems' relationship on one page, helping you better analyze the system faults. Contains the most comprehensive services on 98% of vehicles. Support wider vehicle coverage, more frequent updates, WIFI print reports, Pre & Post scan, FCA & Renault SGW, report management, remote expert Sending us an SN code is required for us to add you to our whitelist and enable this feature. And extended features such as battery test and Videoscope (with MV105/108).
Enhanced Remote Expert: The remote expert adds DoIP protocol, making the model coverage wider; the server and point-to-point dual-channel connection method makes the network more stable and reduces communication delay. The scanner also supports protocols auto recognition, diagnostic reports import, and several communication methods such as audio and video for smoother communication. Covers the most complete vehicle makes and models (updates to 2022 newest models).
The kit includes EVDiag Box, leads, and adapters for specific electric vehicles to perform battery pack analysis, and high-voltage system diagnostics. The EVDiag Box is compatible with the MaxiSys Ultra, MS919, and MS909 tablets. Autel Ultra EV: Revolutionary Solution for EVs. Why Autel has Developed Special Diagnostic Tools for New Energy Vehicles?
The car structure of EVs is different from f-uel cars. Unlike f-uel vehicles, the problems of new energy vehicles are not scattered among the various systems but are mainly focused on the electronic control system and the battery. Traditional diagnostic scanners are unable to conduct comprehensive problem troubleshooting for electric vehicles. Traditional scanners cannot diagnose EVs.
They cannot diagnose the high-voltage system of EVs; obtain detailed information on each module of the battery pack and locate faults, or diagnose electric control modules such as motors. Insufficient experience in EV diagnostics.
Due to the high technical requirements for mechanics and the danger of the operation, there are currently few mechanics who can perform the diagnostics for EVs. Our scanner Ultra EV, as an expert, can provide video graphics as well as guidance and safety tips for you. In this way, we have developed the EV box and a set of adapters to meet the diagnostic needs of new energy vehicles, diagnose the high-voltage system and perform battery pack analysis.
How can Ultra EV help you with new energy vehicles diagnostics? Display an all-in-one status of the battery pack's State of Charge (SoC), State of Health (SoH), overall voltage and temperature, and a detailed analysis of each battery module. Are provided based on the monitoring of voltage averages and differences as well as the maximum and minimum voltages of the battery module. One-stop information source for all these vehicles with detailed battery information, including battery brand and module locations, and. With component introduction and connection, socket diagram, and disassembly guides.
Safety information and step-by-step inspection guidance. To ensure technicians can diagnose, service, and repair these vehicles safely and.
ECU Programming & ECU Coding & 40+ Special Functions- Multiplying Repair Store Revenue. Autel Ultra EV is the upgraded version of MS909/MS909/MS908S PRO/MK908P/ELITE. The car scanner provides you with nearly the same coding and programming functions as original diagnostic devices for some automotive brands.
Ultra EV, as the top-notch scan tool, solves programming, coding, and matching puzzles for various vehicles. It is designed to be your benefits maker. Autel Ultra EV scan tool enables users to program replaced new ECUs; download the latest version of the software and reprogram ECUs; backup and restore lost data on ECUs.
A series of on-screen operational instructions will display to guide you through the programming procedure. Online coding is supported for Ben-z, B-M-W, A-udi, Porsche, VW, etc. This feature can be used to write the new code to the ECU after replacement, get the replaced parts known by other ECUs, and customize the setting of vehicles to achieve car personalization, such as controlling auto side mirror folding, turning on/off auto engine start-stop, customizing the daytime running lights, auto-lock/unlock function, and so on. VCMI adds support for these protocols, allowing connection to factory diagnostic scanners for diagnostics and ECU programming. The Ultra EV is Autel's m-ost ambitious diagnostics tablet designed to maximize intelligence.
In this case, we have added almost all the usual special functions to this scanner, and made the functions the same as the OE scanners, so that all technicians can easily reset and match the component for more than 10,000 vehicles. With the software update, we will continue to add more functions for more vehicles. Intelligent Diagnostics, Liberate Hands and Brain, Increase Efficiency by 100%. Ultra EV can be your expert assistant, simplifying your diagnostic work and advising you on repairs. Autel exclusive system topology software: A color-coded topology display for all vehicle systems and their status on one page.
The module status and ECU connection are shown in the tree clear and cut. OE Technical service bulletin (TSB): Offer official statements issued by vehicle manufacturers regarding problems including vehicle modules, DTCs, repair methods, program updates, and recall strategies. Currently available on Ford, GM, FCA, Toyota, Lexus, VW, N-issan, Honda, BMW, Mercedes, Au-di, Hyundai, and Kia. Repair Assist: Provide recommended tests and a step-by-step guide to fix vehicles' faults.
DTC Analysis: describes possible causes and solutions for vehicle faults. Currently available on GM, Ford, Toyota, Lexus, N-issan, Honda, VW, Au-di, BMW, FCA, and Mercedes.
Relevant Cases: offer relevant fault-clearing cases for repair reference. VCMI Combines Oscilloscope, Waveform, Multimeter, and CAN Bus in One. The new MaxiFlash VCMI (Vehicle Communication and Measurement Interface) integrates those specialty functions into one.
Oscilloscope, waveform generator, multimeter, and digital OBDII breakout box. Oscilloscope: measures voltages of electrical systems. Various signal activities can be displayed and monitored on a two-dimensional grid.
Ultra EV software provides a large library of preset guided tests and an extensive waveform library, to ensure techs get the best use of the Oscilloscope. Waveform Generator: tests sensors, actuators, or ECUs without the need to replace them. It will simulate signals of various sensors and ECUs, and identify hardware issues.
For instance, the VCMI can simulate sensor signals to diagnose ECU, sensor, and wiring harness; verify the functionality of the Electronic fan, solenoid valves, etc. And test the communication status between the actuator and ECUs (Electronic fan, solenoid valve, headlight). Multimeter: measures voltage, current, resistance, frequency, diode, duty cycle, pulse width, and continuity test. Bus Inspection: performs OBD-related functions and signal detection. Check whether the control units in the vehicle's electronic control systems work properly with the indicator light according to the condition of sending out the communication signals. Autel Ultra EV: Continuously Update Features, Ease Maintenance Work. To keep pace with the increasingly updated and diversified diagnostic needs of modern vehicles, Autel values feedback and needs, and constantly develops new features to meet them.
In 2022, the following features were added or enhanced. Today's vehicles have become sophisticated computer networks on wheels.
With the Ultra, the diagnostic process could be much easier. Topology is to show the layout, design, and behavior of data bus configurations, help you have a clear picture of vehicle status; and give the OE data and processing suggestions. Pre-Post Scan Report & Wi-Fi Print. Use with MV105/108 & BT506.
The scanner can connect with the Autel endoscope (MV105/108) for inside vehicle parts and other confined place inspections such as HVAC, vent pipe, engines, air conditioners, sofa corners, etc. It can also connect BT506 for battery tests. Allows technicians to get help from experts anytime, anywhere. P2P direct connection allows automatically selecting of the best quality network to ensure stable and smooth remote operation; IM instant communication ensures no barriers to communication between the expert side and the technician side.
Note: Send us the SN code to get this feature activated. You can upload and share reports by scanning the QR code, and sending SMS and e-m-ails. You can print the diagnostics reports out wirelessly for more convenient operation.
FCA AutoAuth & Renault Gateway. Allow users to access SGW Secure Gateway on 2018 and newer FCA vehicles, and Renault vehicles and performs diagnostics and special functions. Wide Compatibility & Superior Hardware.
Cover 10,000 Vehicles All Over the World. Car Coverage: We understand how important compatibility is for large garages, so we are constantly developing new models to make the diagnostic scanner available to serve as many models as possible. Autel Ultra EV, our high-end diagnostic device, covers a complete range of car models. Whether the car diagnosed is an Asian, European, or American brand, Autel Ultra EV can handle them.
A total of 85+ makes, 140+ brands, and 10,000+ models are covered. Eg: it supports OE diagnostic tools for Land Rover, Jaguar, Volvo, Toyota, GM, Honda, N-issan, BMW, BENZ, VW, Hyundai, Kia, Mazda, Mitsubishi, Chrysler, etc. 13+ Languages: English, German, Spanish, French, Traditional Chinese, Japanese, Polish, Portuguese, Russian, Italian, Korean, Dutch, Swedish, etc. Offer 5 Times Faster Operating Speed. And Android 7.0 OS bring smooth and swift operating and diagnostic experience, increasing speed by 5 times.
Provides more space for you to store important files and records. Super battery allows for continuous working for more than 10 hours.
Screen allows you to see more at a glance and see the contents more clearly. To make the connection more convenient. The Autel Ultra EV auto scan tool works as a transmitter to send the commands to ECUs and conduct mutual communication with the vehicle sub-systems and components to quickly locate the problems of components, such as windscreen wipers, windows & doors, sunroof, injector, mirrors, parking brake, radiator fan, f-uel pump, vehicle level position, etc. Active test function shortens the diagnostic time and saves you from messy vehicle diagnostics.
Saves the hassle of switching back and forth between multiple interfaces and allows technicians to test different data on one screen at the same time for easy comparison and analysis, ensuring smoother diagnostic work. The Trend of New Energy Vehicles. Thirty-three electric models were released this year, and automakers like General Motors have plans for all-electric vehicle lines by the start of the next decade. By 2030, 22 million EVs are projected to be on American roads. Despite the increasing popularity of electric vehicles, there are relatively few diagnostic devices on the market for electric vehicles. So, it's the perfect time for technicians to get a diagnostic scanner for new energy vehicles. This item is in the category "eBay Motors\Automotive Tools & Supplies\Diagnostic Service Tools\Code Readers & Scanners". The seller is "autelzone" and is located in this country: US. This item can be shipped to United States, Canada.
Supported System: IMMO, Full System, BMS, Oil Reset, ABS, DPF, EPB, SAS, SRS, TPMS
OBD Interface: CAN, EOBD, OBD, OBDII
Connectivity: Bluetooth
Features: Colour Display, Backlit Display, Built-In Battery, Check Engine Light Shut Off, Color Display, Erases Codes, Freeze Frame Displays, Internet Updateable, LCD Display, Multi-Language Interface, User Friendly
Type: Professional Diagnostic Scanner Tool
Car Makes: For Tesla, BMW, Benx,Ford, Land Rover,Chrysler,VW...
Manufacturer Part Number: PK MaxiSys MS919 MS909 Elite MK908P IM608 PRO PAD VII PAD V
Vehicle Type: Passenger Vehicle
Accessories: MaxiFlash VCMI, Adapter Cable, Carrying Case, User Guide
Similar Items: MaxiSys Pro MS908P MS906 MS906BT MS906TS
Model: MaxiSYS Ultra EV
Color Screen: 12.9 inch Touchscreen
Processor: 2.3GHz+1.7GHz
Memory: 256GB SSD/4GB RAM
Battery: 18000mAh
Camera: 16MP REAR/5MP FRONT
Operating system: Android 7.0
Software Updates: \uD83C\uDFC62 Year Free
Brand: Autel
VCMI functions 1: 4-channel oscilloscope
VCMI functions 2: waveform generator
VCMI functions 3: multimeter
VCMI functions 4: CAN BUS tester
Warranty: 5 Year
Function 1: \uD83D\uDD0BAll Functions of MS Ultra + EV Diagnostics
Function 2: \uD83D\uDD0BINTELLIGENT DIAGNOSTICS & 40+ SERVICES
Function 3: \uD83D\uDD0BWORTH $2000 5-IN-1 VCMI
Function 4: \uD83D\uDD0BE~CU PROGRAMMING AND ONLINE CODING
Function 5: \uD83D\uDD0B99% VEHICLE COVERAGE, FASTER THAN MK908P/ELITE
Function 6: \uD83D\uDD0BTOP SOFTWARE & HARDWARE CONFIGURATION
Function 7: \uD83D\uDD0BNO-RISK PURCHASE
Function 8: \uD83D\uDD0BOne-stop Intelligent Diagnosis
Function 9: \uD83D\uDD0BOE-level Topology Module Tree
Function 10: \uD83D\uDD0BMultiple repair guidance
\uD83C\uDF81Free Gift 1: Autel PS100 Circuit Tester Power Tool
\uD83C\uDF81Free Gift 2: Autel MV460 Car Digital Inspection Camera
UPC: 632096267212

---