Acrylic Display Case for Large Collectibles 29 inch Tall Clear Acrylic Box f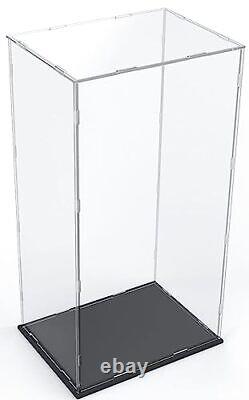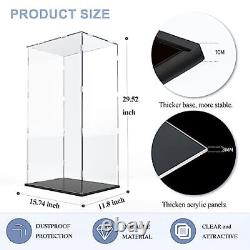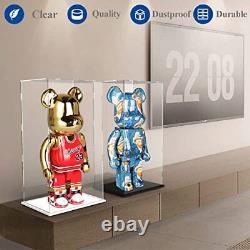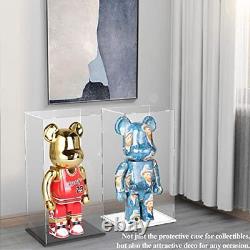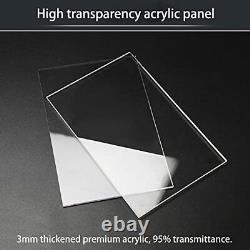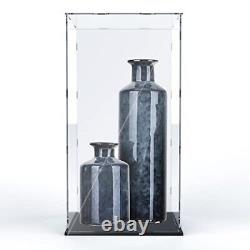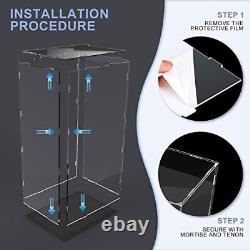 Don't keep your precious collectibles out of sight. Proudly display them with a crystal-clear acrylic box. Suitable for action figure, large doll, figurine, porcelain dolls, large size model, bearbrick of 1000% size, teddy bear, model rocket, glassware and so on.. The display case is an indispensable accessories for your precious collectible.
With it, you don't have to worry about the scratch and dust and corrosion. Acrylic display box makes your treasured item go from plain on the shelf to being highlighted beautifully. For those who like to collect, this is a very good and unique gift. This display storage case is suitable for collectors of all ages.
More importantly, this figure display case can highlight the beauty of collectibles and make them more attractive. The first and best choice for collectors. Size: 15.3"L9.8"D29.1H(392574CM). Display box has high transparency, we choose 3mm thick acrylic board, the light transmittance is 95%.
The acrylic panels are cut by a precision laser machine, all dimensions are perfectly matched to each other, the assembly gap is minimized, and your products are protected from dust and corrosion. High-quality materials make sure long-term use. We choose 3mm thick acrylic board, more durable and strong. 10mm thick wood-plastic base, more stable.
You just need to connect the sides, top and head. No glue needed for assemble.
Make sure you tear off the protective film on both sides of each acrylic board by fingernail or key before install. Protect your collectibles from discoloration, oxidation and damage. The acrylic display case protect your large collectibles from scratch, dust, water and corrosion. No need to worry about your collectibles covered with dust. Only wipe down the surface of the display box simply ranther than wipe down each corner of your collectibles. It is truly an indispensable accessories for your precious collectibles. This highly transparent display box will not only not obstruct your viewing of your collections, but will also protect it from dust and UV rays, saving you time in cleaning.
It is functional and decorative, while still blending well with different styles of places. We choose 3mm thick acrylic board, the light transmittance is 95%. Are you having troubles finding a protective case for your large and tall collections? This display box is the perfect solution to your problem, it is specially designed for large collectibles!
DIMENSION: 15.74inch Long and 11.8 inch Wide and 29.56 inch Tall (40 x 30 x 75cm). Suitable for bearbrick 1000%, large-size doll figure, large Lego, large-size model, kaws figures, figurine, action figure, wedding decor, porcelain, model rocket, glassware and so on. Precise cutting gives this display box a stable structure without any rubber band or glue.
Our display case use 10mm thick base, more thicker than others and more stable. For those who like to collect, this is a very pratical and unique gift.
Gifts for mens, gifts for him, gifts for women, gifts for friends, mens gifts, gifts for her. Easy to Assemble and Clean? Acrylic material, can be easily cleaned with a damp cloth.

---