3-Layer Acrylic Clear Display Holder Showcase Collectibles Storage Cabinet Box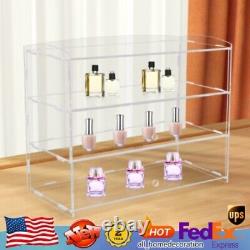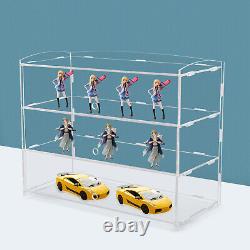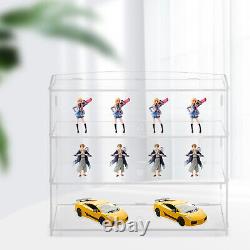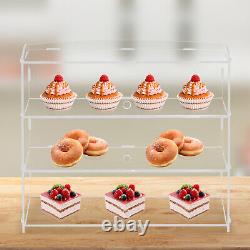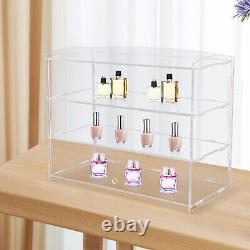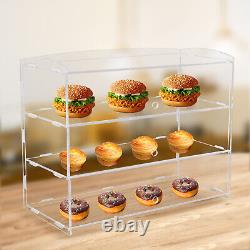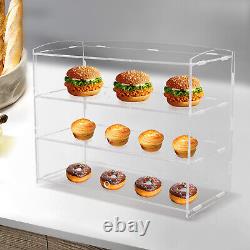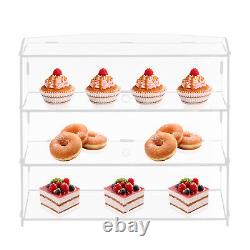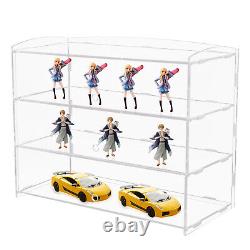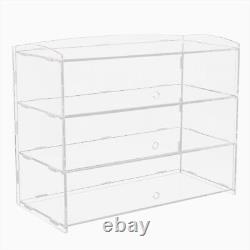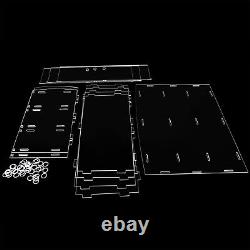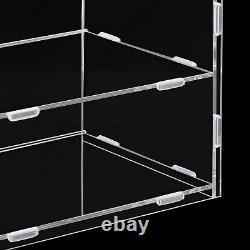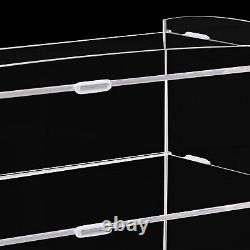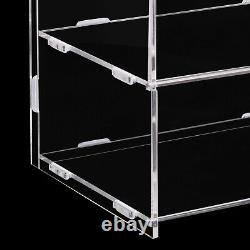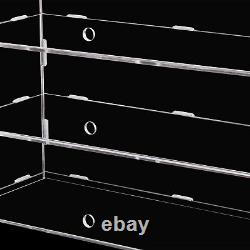 Acrylic Display Case Bakery Pastry Display Case Retail Display Counter Cases Acrylic Display Shelf Donut Cookie Display Cabinet Specification Material: Acrylic Number of layers: 3 Style: Modern Mounting Type: Freestanding Shape: Rectangular Color: Clear Thickness: 5mm/0.2in Packing Size: 483812cm/18.8914.964.72cm Product Size: 47.521.537.5cm/18.78.514.8in Gross Weight: 6.5kg/14.33lbs Net Weight: 6kg/13.22lbs Package Included 1 Acrylic Display Case. 3-Layer Acrylic Clear Display Case Freestanding Collectibles Storage Cabinet.
Are you still looking for a storage case with a good display effect? Then you can't miss this 3-tier acrylic display case, which can be used not only for displaying your saleable goods in the mall, but also for displaying your collectibles. The sturdy clear acrylic material will make it an ideal display case choice!
With a thickness of 0.2in, the acrylic display case is less prone to breakage and deformation, ensuring a long service life. The elegant outline and crystal-like color of this acrylic display case are extraordinarily elegant and atmospheric.
It shines even more under the illumination of light, making it an eye-catching addition to the room. The transparent acrylic material brings a better visual experience and can quickly identify the items in each compartment. This makes it easy for customers to be attracted to the items displayed inside.
The structure of this acrylic display case is simple and easy to install. It adopts an inlaid assembly method, which can be easily installed in a short time without any tools.
It makes full use of vertical space to neatly arrange and display each collection or item in an orderly manner, so you can say goodbye to clutter and disorganization. This large-capacity, beautiful and stylish acrylic display case is an ideal gift for family, friends, collection enthusiasts, or retailers. This large-size acrylic display case(18.78.514.8in) has three compartments in total, providing you with plenty of storage space. Also, its top also can be used to display your items.
Each tier of the display case comes with a flexible door, providing enclosed. Storage space for food or collectibles while allowing you to easily organize your items. It is lightweight(13.22lbs) and compact, you can easily move it or carry it to guide anywhere. Easy to Clean: The smooth surface of acrylic makes it easy to clean.
You can easily remove stains with a damp rag. The acrylic display case from being scratched and bumped during transportation, we apply protective films on both sides of the panel to maximize the protection of your product.
We aim to provide quality products and services. We will reply and solve the problem for you as soon as possible. Acrylic Material: Compared to or.
Dinary plastic or glass, acrylic has a more stable. Chemical performance, and is also water and. Makes it the ideal material for the display case. The package is equipped with white rubber rings to hold each snap in place, making the structure of the display box more stable and preventing it from collapsing or falling apart. The edges are carefully polished, so they are smooth and delicate and won't scratch your hands. And the delicate edges improve its beauty. Packing Size: 483812cm/18.8914.964.72cm. Product Size: 47.521.537.5cm/18.78.514.8in.
Gross Weight: 6.5kg/14.33lbs. It can be used in homes, retail stores, offices, museums, trade shows, store displays, and gift stores suitable for placing bread, collectibles, jewelry, sunglasses, watches, souvenirs, model cars, artwork, objects, etc. When installing, please pay attention to the distinction between short and long acrylic panels, and align the gaps between the panels and nest them in. Downward installation is a better way to install.
Please allow the slight color difference caused by the shooting light and 1-3cm error due to manual measurement, and make sure you do not mind before you order. Feedback is very important to us. It is impossible to address issues if we do not know about them! Faction is our ultimate goal. We work hard to earn your trust and future business. A If you receive a defective item, you may return it or ask for a discount. Due to time zones, our reply to your questions may not be immediately. If it's non-workdays, please kindly be patient and wait till Monday. 47.521.537.5cm/18.78.514.8in.

---