100 Thimble Display Case Cabinet Shadow Box, Glass door, Solid Wood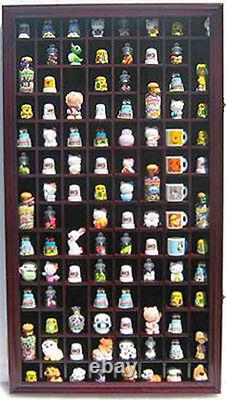 (100 Slots), Glass Door, Solid Wood. Product Description A great way to display your Thimble/Miniature collections. Repeated sand many times to achieve super fine smooth surface and unmatched elegant appearance.
Black matted background to create a lovely display. Brass hinges, door latches, and wall brackets to hang.
Glass door cover to protect from dust and damage. Just look at my 100% positive feedbacks for quality guarantee. Dimensions: 29"H X 16" W X 1.75"D Weight (net): 10 lbs Dimension of slots: Square 1 5/8"W X 1.75"H, Taller 1 5/8"W X 3.7"H Interior depth : 1.25"D.
We strive on providing the finest craftsmanship on all of our products and customer service is our highest priority. Our Quality is Satisfaction Guaranteed. In manufacturing, each piece of natural hardwood is hand selected to provide the best raw material for our display cases.
While our cases involve an extensive amount of handwork, our craftsmen have used only the finest woodworking techniques. Our collectible display cases' gives you all the principles of "Value": Great Price, Quality, Durability, and Functionality... Which you will love today and tomorrow. Virgin Islands, APO, AND International Countries. Damaged: will send your replacement item free of charge.

---